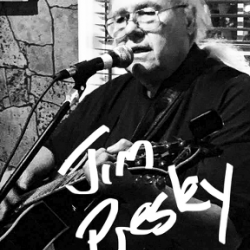 Outdoor concert: Blues and Native American Music
Join us on the Meetinghouse grounds from 2:00-3:00 pm during our Quaker Barter Fair  for Traditional Blues, Original Blues, and Native American Music with Jim Presley.
Jim plays acoustic Old School Blues and his own original compositions as well as Native American music. He does not consider his music a performance but an opportunity for the audience to share the fun at his party. From his perspective, the Blues is about connecting and celebrating with our relationships regardless of what life throws at us. Jim also loves to tell stories, and muse on various topics but our number one reason for our gathering is fun.  Learn more about Jim and listen to some of his music at  Home | Jim Presley – Bluesman
Concert is free, and donations to benefit Live Oak Friends Meeting are much appreciated.