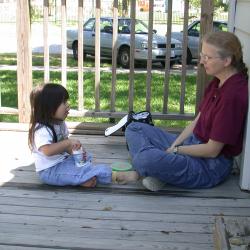 The goal of children's religious education at LOFM is to encourage them to develop a deep and abiding awareness of the light within themselves and others. Programs seek to help them learn about the Quaker way both experientially and intellectually and integrate that learning both in the Meeting comunity and in the world outside Meeting.
There are programs for preschool, elementary, middle school, and high school groups, and there is a nursery for infants through age three. The educational programs begin at 10:50 am, allowing the children to experience twenty minutes of Meeting for Worship before going to the Little House for their classes.
Teachers oversee both spiritual education and physical care for the children, provide educational resources and ensure their safety. To view a copy of our child safety policy, click here.
List of Exceptions for Childcare Schedule
The weeks of: Thanksgiving, Christmas, New Year's and Easter.
Contact us for more information